Bio
Cécile Bichon is a multidisciplinary artist based in Paris.
Originally trained in graphic design, she gradually turned to installation and sculpture before focusing on ceramics through discovery as a self-taught artist. She creates unique pieces by merging sculpture and functionality, exploring the possibilities of the material to constantly renew her shapes and creative processes.
-
Cécile Bichon est une artiste multidisciplinaire basée à Paris.
Initialement formée à la communication visuelle, elle s'est progressivement tournée vers l'installation puis la sculpture avant de se concentrer sur la céramique qu'elle découvre en autodidacte.
Elle réalise des pièces uniques à la lisière entre sculpture et fonctionnalité, explorant les possibilités du matériau pour renouveler sans cesse ses formes et ses processus de création.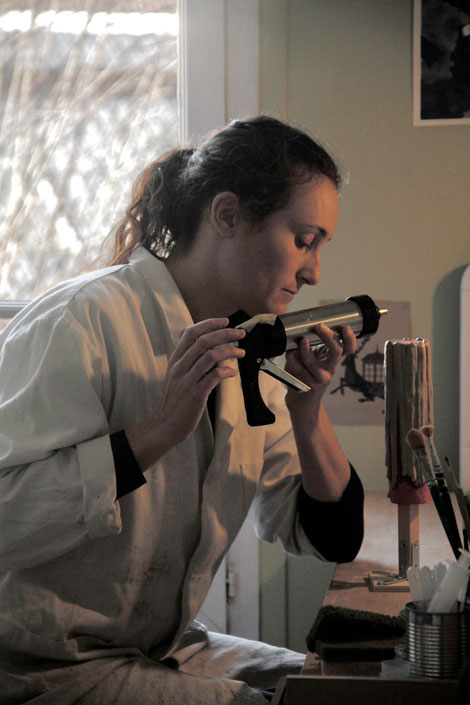 Approach
Her work is built around a "primitive" vision of the world, a way of looking at things by disregarding our rational knowledge in order to view each piece as if it were the first time and ask the fundamental question: "what is it?".
She creates objects by letting the slip flow, solidify freely to evolve in enigmatic shapes, lunar concretions, half-stone half-flesh.
She then looks at these objects with wonder as if these works were a complete stranger who had been self-generated without any human touch being involved at any point.
Just as the effort must disappear behind the dancer's movements to evoke emotion, she aims to erase the hand behind the object so each can come alive with its own presence.
Everyone is free to confront these evocative shapes to develop a simple hypotheses to complex mythologies.
-
Son travail se construit autour d'une vision " primitive " du monde, une manière de regarder les choses en faisant abstraction de nos connaissances rationnelles, comme si on les voyait pour la première fois afin de revenir à l'interrogation fondatrice : " qu'est-ce que c'est ? ".
Elle crée des objets sans modeler ni creuser en laissant juste la terre se déverser et se solidifier à sa guise pour aboutir à des formes énigmatiques, concrétions lunaires, mi-pierre mi-chair. 
Elle pose ensuite sur ces volumes un regard d'étonnement comme s'ils lui étaient totalement étrangers, comme si la main de l'homme n'était pas intervenue et que l'objet s'était généré de lui même. 
De même qu'il faut que l'effort disparaisse derrière le geste du danseur pour que l'émotion surgisse, elle souhaite que la main s'efface derrière l'objet pour qu'il s'anime d'une présence qui lui est propre. 
Libre à chacun ensuite de se confronter avec ces formes évocatrices pour développer de simples hypothèses ou de véritables mythologies.
Education
2011
DSAA Mode et environnement, ESAA Duperré, Paris, FR
2009
1ère année de licence d'études théâtrales parcours cinéma, Sorbonne Nouvelle, Paris III, FR
2008
BTS communication visuelle option graphisme et publicité, ENSAAMA, Paris, FR
Group shows
2022
Lartique, Espace Bertrand Grimont, Paris, FR
2021
Light my fire, Objects with Love, Neumarkt17, Zürich, CH
Le Grand Tour, for Diptyque's 60th anniversary, La Poste du Louvre, Paris FR
International KOGEI Award in Toyama, Toyama Prefectural Museum of Art and Design, JP
International KOGEI Award in Toyama, Takaoka Art Museum in Takaoka city, JP
2020
Toussaint, Palais - Galerie, Neuchâtel, CH
Biennale Émergences, CND Pantin, FR
Paris Design Week with Folks, Paris, FR
Vacances chez Boutemy, Fracas gallery, Brussels, BE
Collectible with Rademakers gallery, Brussels, BE
2019
Affordable Art Fair Hamburg with Rademakers gallery, Hamburg, DE
Fracas gallery, Brussels, BE
Art Élysées with Huskdesignblog, Paris, FR
Collectible curates at 107Rivoli, shop of the Museum of Decorative Arts, Paris, FR
1000vases, Meet My Project, Espace Commines, Paris, FR
Summer Jam, Rademakers gallery, Amsterdam, NL
Tactile matter, Ventura Future with Form&Seek, Milano Design Week, Milan, IT
2018
Fracas gallery, Brussels, BE
2017
Librairie galerie Terres d'Aligre, Paris, FR
2013
Le Thésaurus Rex s'expose !, Bibliothèque Claude Lévi-Strauss, Paris, FR
2011
Hope, Help, Health, charity sale for the benefit of CARE Association, H3 concept gallery, Paris, FR
L'écume des jours illustrée, Salon Chic Art Fair, Paris, FR
2010
L'écume des jours illustrée, Galerie du Crous Beaux Art, Festival ici et demain, Paris, FR
Solo shows
2013
L'écume des jours illustrée, French Touche, Paris, FR
2011
L'écume des jours illustrée, Halle des Chartrons, Bordeaux, FR
2010
L'écume des jours illustrée, FRAC gallery of lycée Joliot Curie, Hirson, FR
Award
2020
Finalist for the International Kogei Award in Toyama