Bio
Cécile Bichon est une artiste multidisciplinaire basée à Paris.
Initialement formée à la communication visuelle, elle s'est progressivement tournée vers l'installation puis la sculpture avant de se concentrer sur la céramique qu'elle découvre en autodidacte.
Elle réalise des pièces uniques à la lisière entre sculpture et fonctionnalité, explorant les possibilités du matériau pour renouveler sans cesse ses formes et ses processus de création.
*
Cécile Bichon is a multidisciplinary artist based in Paris.
Originally trained in graphic design, she gradually turned to installation and sculpture before focusing on ceramics through discovery as a self-taught artist.
She creates unique pieces by merging sculpture and functionality, exploring the possibilities of the material to constantly renew her shapes and creative processes.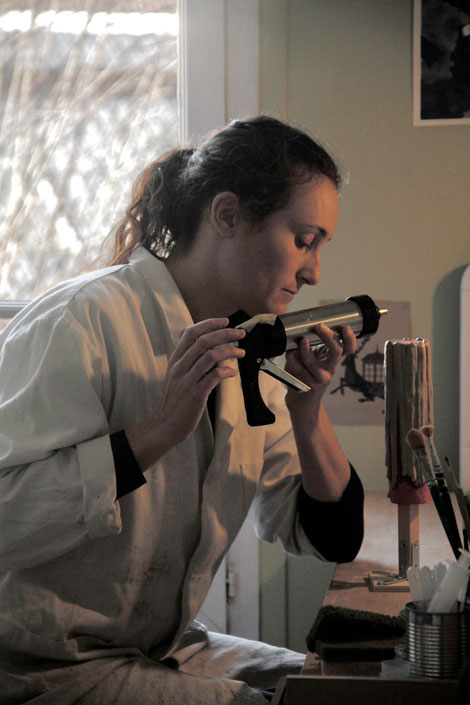 Education
2011
DSAA Mode et environnement, ESAA Duperré, Paris, FR
2009
1ère année de licence d'études théâtrales parcours cinéma, Sorbonne Nouvelle, Paris III, FR
2008
BTS communication visuelle option graphisme et publicité, ENSAAMA, Paris, FR
Group shows
2021
Light my fire, Objects with Love, Neumarkt17, Zürich, CH
Le Grand Tour, for Diptyque's 60th anniversary, La Poste du Louvre, Paris FR
International KOGEI Award in Toyama, Toyama Prefectural Museum of Art and Design, JP
International KOGEI Award in Toyama, Takaoka Art Museum in Takaoka city, JP
2020
Toussaint, Palais - Galerie, Neuchâtel, CH
Biennale Émergences, CND Pantin, FR
Paris Design Week with Folks, Paris, FR
Vacances chez Boutemy, Fracas gallery, Brussels, BE
Collectible with Rademakers gallery, Brussels, BE
2019
Affordable Art Fair Hamburg with Rademakers gallery, Hamburg, DE
Fracas gallery, Brussels, BE
Art Élysées with Huskdesignblog, Paris, FR
Collectible curates at 107Rivoli, shop of the Museum of Decorative Arts, Paris, FR
1000vases, Meet My Project, Espace Commines, Paris, FR
Summer Jam, Rademakers gallery, Amsterdam, NL
Tactile matter, Ventura Future with Form&Seek, Milano Design Week, Milan, IT
2018
Fracas gallery, Brussels, BE
2017
Librairie galerie Terres d'Aligre, Paris, FR
2013
Le Thésaurus Rex s'expose !, Bibliothèque Claude Lévi-Strauss, Paris, FR
2011
Hope, Help, Health, charity sale for the benefit of CARE Association, H3 concept gallery, Paris, FR
L'écume des jours illustrée, Salon Chic Art Fair, Paris, FR
2010
L'écume des jours illustrée, Galerie du Crous Beaux Art, Festival ici et demain, Paris, FR
Solo shows
2013
L'écume des jours illustrée, French Touche, Paris, FR
2011
L'écume des jours illustrée, Halle des Chartrons, Bordeaux, FR
2010
L'écume des jours illustrée, FRAC gallery of lycée Joliot Curie, Hirson, FR
Award
2020
Finalist for the International Kogei Award in Toyama